TRANSFERRING ENERGY
3D KNOWLEDGE PRODUCTION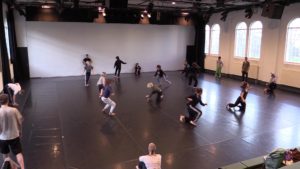 The technique class I teach often focuses on how to move around and through ourselves, how to travel through the space, both in the vertical and horizontal plane, how to work with jumps, runs, turns and slides. The goal of the class works towards functionality of movement and strives to improve efficient use and transferring of energy, momentum, in dancing.
One term to describe the class is floor-work, but we often also work on principles that can be applied in relation to a partner. The class it self is energetic and deals with tools from both contemporary dancing, release technique, flying low, martial arts and other related movement practices.
I aim to create a learning situation where everyone that is participating can get tools and experiences that they can apply to their own interests and practices.
Content / Material
The class has its starting point in my own artistic and movement research, which is a translation and investigation of inputs from different people and practices I have encountered.
The class is a living document that I'm constantly updating in relation to the development of my own research. The teaching format is both a way for me to enrich and get new input to my own research and also an output for other people to take part in it.
I'm always updating the class so it stays relevant in relation to where the students are in their development as dancers, movement practitioners and artists. The focus of the class is functionality of movement rather than aesthetics.
In my movement research I work with how to dynamically interact with forces, and physical principles through movement like: friction, inertia, momentum, velocity, trajectories, g-force, centrifugal force, gravitational force and its relation to falling, amongst others. In the class we are working on how to apply and direct these forces and principles relation to:
The movement within the own body

The movement in the space

A partner

A group
Pedagogic vision
I work with learning and pedagogy in a 3D way, a multidimensional way. That means that the passing of information is not only happening from the teacher to the students, a 2D way, but rather happening in all directions and everybody in the room can learn from anything.
I want to facilitate a multidimensional knowledge production and through this boost the students own analyzing, problem solving and creative thinking.
I am trying to present the students to a learning situation where they can feel free to teach themselves, were they can find their own motivation to work and learn, a space where learning can happen. So the students can take ownership of the work and the learning and learning experience.
I want the students to get tools that they can apply to their own interests and practices.